Name
Ability
Location
Choco Mog
DeathBlow!!
Chocobo Farm, talk to Chocobos in the pen and answer 'Wark!'.
Fat Chocobo
LVL
Ability
AP
MP
*
One use per battle.
0
14
**
Two uses per battle.
2000
14
***
Three uses per battle.
14000
14
****
Four uses per battle.
25000
14
*****
Five uses per battle.
35000
14
Equip Effect
Notes
Magic +1
'Deathblow!!' causes low damage. Sometimes inflicts Stop.
Max MP +2%
'Fat Chocobo' can only be used once Materia is LVL 2+, 1/16 chance. Causes a little more damage than 'Deathblow!!'.
Max HP -2%
Name
Ability
Location
Shiva
Diamond Dust
Junon Town, a gift from Priscilla.
LVL
Ability
AP
MP
*
One use per battle.
0
32
**
Two uses per battle.
4000
32
***
Three uses per battle.
15000
32
****
Four uses per battle.
30000
32
*****
Five uses per battle.
50000
32
Equip Effect
Notes
Magic +1
'Diamond Dust' causes Ice damage.
Max MP +2%
Max HP -2%
Name
Ability
Location
Ifrit
Hellfire
Junon Cargo Ship, found after defeating JENOVA BIRTH.
LVL
Ability
AP
MP
*
One use per battle.
0
34
**
Two uses per battle.
5000
34
***
Three uses per battle.
20000
34
****
Four uses per battle.
35000
34
*****
Five uses per battle.
60000
34
Equip Effect
Notes
Magic +1
'Hellfire' causes Fire damage.
Max MP +2%
Max HP -2%
Name
Ability
Location
Ramuh
Judgement Bolt
Gold Saucer (Disc 1), the Chocobo racing Waiting Room.
LVL
Ability
AP
MP
*
One use per battle.
0
40
**
Two uses per battle.
10000
40
***
Three uses per battle.
25000
40
****
Four uses per battle.
50000
40
*****
Five uses per battle.
70000
40
Equip Effect
Notes
Magic +1
'Judgement Bolt' causes Lightning damage.
Max MP +2%
Max HP -2%
Name
Ability
Location
Titan
Anger of the Land
Gongaga, found after Scarlet abandons it in the destroyed Reactor.
LVL
Ability
AP
MP
*
One use per battle.
0
46
**
Two uses per battle.
15000
46
***
Three uses per battle.
30000
46
****
Four uses per battle.
60000
46
*****
Five uses per battle.
80000
46
Equip Effect
Notes
Magic +1
'Anger of the Land' causes Earth damage.
Max MP +2%
Max HP -2%
Name
Ability
Location
Odin
Steel Bladed Sword
Nibelheim, in Nibelhaim Mansion Safe,
Gunge Lance
the code is Right 36, Left 10, Right 59, Right 97. You then fight Lost Number...
LVL
Ability
AP
MP
*
One use per battle.
0
80
**
Two uses per battle.
16000
80
***
Three uses per battle.
32000
80
****
Four uses per battle.
65000
80
*****
Five uses per battle.
90000
80
Equip Effect
Notes
Magic +1
'Steel Bladed Sword' instantly kills all opponents.
Magic Def +1
'Gunge Lance' is used when opponents cannot be killed instantly.
Max HP -5%
Max MP +5%
Name
Ability
Location
Leviathan
Tidal Wave
Wutai, defeat Godo - Yuffie's father - in the Pagoda.
LVL
Ability
AP
MP
*
One use per battle.
0
78
**
Two uses per battle.
18000
78
***
Three uses per battle.
38000
78
****
Four uses per battle.
70000
78
*****
Five uses per battle.
100000
78
Equip Effect
Notes
Magic +1
'Tidal Wave' causes Water damage.
Magic Def +1
Max HP -5%
Max MP +5%
Name
Ability
Location
Bahamut
Mega Flare
Temple of the Ancients, found after defeating the Red Dragon.
LVL
Ability
AP
MP
*
One use per battle.
0
100
**
Two uses per battle.
20000
100
***
Three uses per battle.
50000
100
****
Four uses per battle.
80000
100
*****
Five uses per battle.
120000
100
Equip Effect
Notes
Magic +1
'Mega Flare ' causes high non-elemental damage.
Magic Def +1
Max HP -5%
Max MP +5%
Name
Ability
Location
Kjata (A.K.A Kujata)
Tetra-Disaster
Sleeping Forest, floating around. Press to catch it.
LVL
Ability
AP
MP
*
One use per battle.
0
100
**
Two uses per battle.
22000
100
***
Three uses per battle.
60000
100
****
Four uses per battle.
90000
100
*****
Five uses per battle.
140000
100
Equip Effect
Notes
Magic +1
'Tetra-Disaster ' causes Fire, Ice and Lightning damage.
Magic Def +1
Max HP -5%
Max MP +5%
Name
Ability
Location
Alexander
Judgement
Great Glacier, touch the hot springs, then go to the Snow Field area.
Head East until you reach another area, then go East again till you find a cave.
Enter it and talk to the strange figure. You will fight a very easy battle against a Snow. After she'll gve you the Materia.
LVL
Ability
AP
MP
*
One use per battle.
0
120
**
Two uses per battle.
25000
120
***
Three uses per battle.
65000
120
****
Four uses per battle.
100000
120
*****
Five uses per battle.
150000
120
Equip Effect
Notes
Magic +1
'Judgement ' causes Holy damage.
Magic Def +1
Max HP -5%
Max MP +5%
Name
Ability
Location
Phoenix
Phoenix Flame
Fort Condor, receive from baby Phoenix after completing Fort Conder Huge Materia side quest.
LVL
Ability
AP
MP
*
One use per battle.
0
180
**
Two uses per battle.
28000
180
***
Three uses per battle.
70000
180
****
Four uses per battle.
120000
180
*****
Five uses per battle.
180000
180
Equip Effect
Notes
Magic +2
'Phoenix Flame ' causes Fire damage. Also revives any KO'd Party members.
Magic Def +2
Max HP -10%
Max MP +10%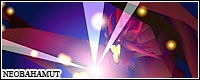 Name
Ability
Location
Neo Bahamut
Giga Flare
Whirlwind Maze, found near first Save Point.
LVL
Ability
AP
MP
*
One use per battle.
0
140
**
Two uses per battle.
30000
140
***
Three uses per battle.
80000
140
****
Four uses per battle.
140000
140
*****
Five uses per battle.
200000
140
Equip Effect
Notes
Magic +2
'Giga Flare ' causes high non-elemental damage.
Magic Def +2
Max HP -10%
Max MP +10%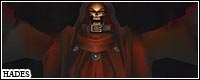 Name
Ability
Location
Hades
Black Cauldron
Sunken Gelnika (located Underwater, south-east of Gold Saucer near the Submarine Dock.)
Near one of the small aircrafts in the Cargo Room.
LVL
Ability
AP
MP
*
One use per battle.
0
150
**
Two uses per battle.
5000
150
***
Three uses per battle.
120000
150
****
Four uses per battle.
150000
150
*****
Five uses per battle.
250000
150
Equip Effect
Notes
Magic +4
'Black Cauldron ' causes non-elemental damage. May inflict Sleep, Poison, Confusion, Silence, Frog, and Small.
Magic Def +4
Max HP -10%
Max MP +15%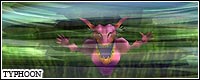 Name
Ability
Location
Typhoon (A.K.A. Typoon)
Disintegration
Ancient Forest (See our 'Secrets' section to find out where.)
LVL
Ability
AP
MP
*
One use per battle.
0
160
**
Two uses per battle.
35000
160
***
Three uses per battle.
120000
160
****
Four uses per battle.
150000
160
*****
Five uses per battle.
250000
160
Equip Effect
Notes
Magic +4
'Disintegration ' causes Fire, Ice, Lightning, and Earth damage.
Magic Def +4
Max HP -10%
Max MP +15%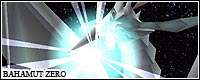 Name
Ability
Location
Bahamut ZERO
Tera Flare
Cosmo Canyon, touch the blue Huge Materia in Bugenhagen's Observatory, (must have Bahamut and Neo Bahamut first).
LVL
Ability
AP
MP
*
One use per battle.
0
180
**
Two uses per battle.
35000
180
***
Three uses per battle.
120000
180
****
Four uses per battle.
150000
180
*****
Five uses per battle.
250000
180
Equip Effect
Notes
Magic +4
'Tera Flare ' causes high non-elemental damage.
Magic Def +4
Max HP -10%
Max MP +15%
Name
Ability
Location
Knights of the Round
Ultimate End
Round Island, North-East corner of map, can only be reached by a Gold Chocobo.
LVL
Ability
AP
MP
*
One use per battle.
0
250
**
Two uses per battle.
50000
250
***
Three uses per battle.
200000
250
****
Four uses per battle.
300000
250
*****
Five uses per battle.
500000
250
Equip Effect
Notes
Magic +8
'Ultimate End ' is the Ultimate attack; thirteen seperate non-elemental blows, each dealing 6000+ damage.
Magic Def +8
Max HP -10%
Max MP +20%
Master Summon
Name
Ability
Location
Master Summon
N/A
Kalm (Disc 2-3), trade Earth Harp, (from Emerald Weapon) with Traveller in Kalm.
Cosmo Canyon, touch red Huge Materia in Bugenhagen's Observatory, when you've mastered all Summon Materia.
LVL
Ability
AP
MP
N/A
Unlimited uses per battle.
0
N/A
Equip Effect
Notes
N/A
Allows you to cast all 16 summons at once.